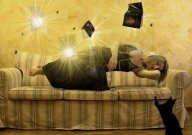 Dreams guide our destiny
Posted on Thursday, 20 February, 2014 |

2 comments
Columnist:

Kathleen Meadows
Iíve been guided by my dreams most of my life. It always surprises me when someone says they donít dream or when they do they donít pay them much mind. Like most people however, Iíve had perhaps a dozen really big dreams. Dreams that told me who I was and would become, what I needed to change and how to do that for the best outcome. Like an honest, very wise best friend who is immensely insightful and creative, my dreaming mind has never led me astray. At almost 60 years old Iím a happy woman; doing work I love, with a life partner who is the love of my life and living in an environment I treasure. I have my dreaming mind to thank for most of it.
It takes a lot of practice and study to learn how to interpret your dreamís meaning. Our dreams speak to us in a visual language of symbols. Our soul; acting as the director, set designer, acting part caster, and action sequence planner, rolls out several plays for us each night. Itís often difficult to recognize ourselves in our dreams because typically we identify with the dream ego who is the observer or responder. Sometimes we are participating in the action but we donít see ourselves, we only feel the action we are taking in response to a stimulus.
Iíve had many dreams about being in a play. Often Iím walking a tight rope in the upper levels of the stage beyond where the audience can see me. Like a behind-the-scenes acrobat, I dash across the tightrope to make sure the objects of the set are lowered at the right moment in the production. Whenever I have this dream, I know my soul is describing my dream interpretation process. Itís telling me, ďYou are behind the scenes in your interpretation of your dreams and youíre too removed, elevated (inflated?) skirting the issues. Get down on the stage and participate with the other characters in the play!Ē After this recurring dream, I revisit my past interpretations with a good dose of humility.
Dream Study Groups
Iíve had dreams that come true. People often ask me how I know the dream Iím having is clairvoyant. Often I donít until the event takes place. Dreaming the future is a way to prepare for an event. We might dream of a loved one passing as I did with my grandmother. I woke up distraught and rushed to call her to make sure she was okay. She was fine. I didnít tell her about my dream. About two years later she died. Because I dreamed this upsetting event, I felt slightly more prepared to deal with her death when it happened. This dream came to me at twelve years old and since Iíve had many dreams of those who passed shortly after. I couldnít say these were clairvoyant necessarily because we are all going to pass on but they did feel like gentle reminders of what soon will happen.
I have facilitated many dream study groups over the years and found them to be the most insightful method in which to approach dreamwork. Denial and temptations to sugar-coat are harder to sustain in a group. A dream study group offers us a variety of possibilities in determining our dreamís meaning and listening to others work through their dreamís guidance messages can be incredibly moving and enlightening. We soon discover that our dreams not only help us, but can help others as well. I canít stress enough how rewarding and valuable you would find the experience. There are important boundaries to establish however, before launching a dream study group. Issues such as trust, confidentiality, honour and respect must be firmly established. I would recommend you set a time frame and adhere to it. A ten week span, for 2 hours per week in the same room seems to work best. At ten weeks people have the option to continue or move on and others may enter the group at this time.
Interpreting Dream Symbols
Dreams speak a language of symbols so understanding the meaning of these symbols is your first and challenging task. Symbols have universal and personal meaning. For example, a book symbolizes knowledge and education but, depending upon the book, the setting, action and characters in the dream around this book, an infinitely deeper meaning will be revealed which is personal to you. This is why itís advisable to start your own dream symbol dictionary.
I hope you have been inspired to examine your dreams more closely. If you are one who has paid little attention to your dreams, I know you will be profoundly rewarded for the energy and time resources you invest in this self-awareness program. No one missed a dream group session with me, and everyone left dream group with something special to carry into their waking lives. Whether it was a deepened spiritual practice or simply deciding to change their lifestyle in a more healthful fashion, everyone left the group with a gift of transformation.
Kathleen Meadows, M.A.
http://www.tarotbykathleen.com
Dream Study Group Guidelines
Article Copyright© Kathleen Meadows - reproduced with permission.
---
If you are interested in the esoteric sciences and psychic ability development you will find the articles on my web site an interesting read. Visit my web site Exploring the Psychic Experience.