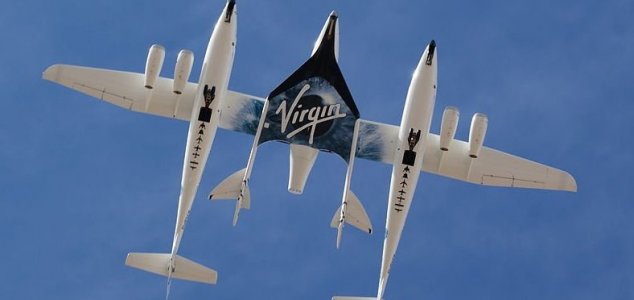 WhiteKnight Two and SpaceShip Two.

Image Credit: CC 2.0 Jeff Foust
Space tourim is inching ever closer as Virgin Galactic conducts a second successful test flight.
The flight saw SpaceShip Two breaking the sound barrier in a supersonic test flight in which it climbed to a height of 69,000 feet above the Earth. The achievement means that the pioneering aircraft is now the highest flying commercial vehicle in history.
"We couldn't be more delighted to have another major supersonic milestone under our belts as we move toward a 2014 start of commercial service," said Virgin Galactic founder Sir Richard Branson. "Congratulations to all involved!"
The flight is a two stage process that also involves WhiteKnight Two, a second aircraft that carries SpaceShip Two to an altitude of 46,000ft before its rocket motors ignite.
"It was particularly thrilling to see for the first time today the whole elegant system in action during a single flight, including the remarkable feathering re-entry system," said Branson. "It was this safety feature more than anything else that originally persuaded us that the overall design of the system was uniquely fit for purpose."
Source: Fox News | Comments (12)
Tags: Virgin Galactic, Richard Branson, Space Tourism