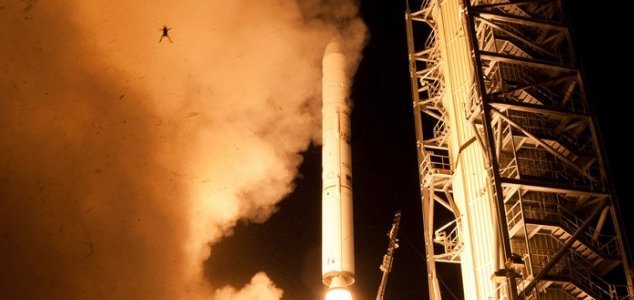 The photobombing frog has since gone viral.

Image Credit: NASA Wallops Flight Facility/Chris Perry
An adventurous frog managed to steal the show during the launch of NASA's LADEE spacecraft this week.
As the rocket carrying the space probe launched from the Wallops Flight Facility in Virginia, all eyes at NASA were on the LADEE ( Lunar Atmosphere and Dust Environment Explorer ) mission and on making sure that everything went according to plan. As photographs of the launch started to circulate the Internet however it turned out that it wasn't the rocket or the space probe that was receiving the majority of the attention.
In one of the frames of footage from the launch an unusual silhouette can be seen hurtling through the air - a tiny frog that was in the wrong place at the wrong time and had ended up being propelled in to the heavens by the force from the rocket.
"The photo team confirms the frog is real and was captured in a single frame by one of the remote cameras used to photograph the launch," NASA wrote. "The condition of the frog, however, is uncertain."
The image has since gone viral with the hapless amphibian generating more media interest than the launch itself.
Source: NASA | Comments (26)
Tags: LADEE, NASA, launch, frog