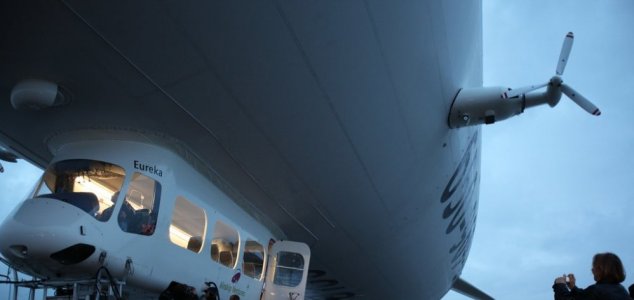 A passenger airship getting ready to take off.

Image Credit: CC BY 2.0 Steve Jurvetson
Aeroscraft's ML866 airship is set to bring zeppelins back as a viable and effective form of transport.
Having cruised through the skies for over 100 years, airships were once considered to be the ultimate way to fly. Now mostly superseded by modern airplanes these lighter-than-air behemoths have mostly disappeared, but one American company is aiming to bring them back in a big way.
Aeroscraft has developed a new type of airship, one that is far more refined and maneuverable than any that have come before. Filled with helium gas, the airship can control its buoyancy by compressing the gas in to special tanks.
Capable of traveling up to 115mph with a cargo of 66 tons, the airship would be able to take off and land anywhere, even on water, and fly directly to its destination. The project is being hailed as revolutionary as it would provide an effective way to transport supplies to war zones or areas affected by natural disasters.
The company is looking to raise enough funds to produce a fleet of 24 of the airships over the next few years and has already received $3M from a US government grant to help develop the project.
Source: Huffington Post | Comments (11)
Tags: Zeppelin, Aeroscraft