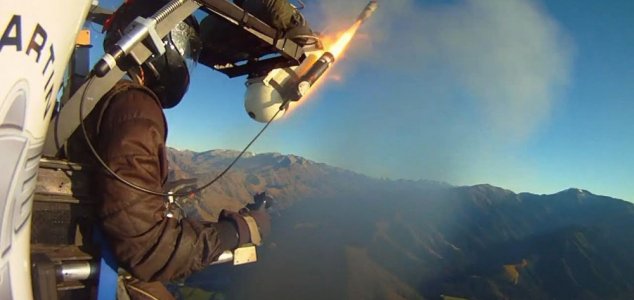 A test flight of the Martin Jetpack.

Image Credit: Martin Jetpack / YouTube
The world's first consumer jetpack will soon be available to purchase from a company in New Zealand.
The Martin Aircraft Co. Ltd. has spent over 30 years researching and developing a working jetpack, a device that enables the wearer to cruise through the air strapped to a piece of technology that chief executive Peter Cooker has described as a "motorcycle in the sky."
With a $150,000 price tag the Martin Jetpack won't come cheap, but with the ability to fly at a height of 7,000ft at speeds of up to 50 miles per hour it is likely that there will be a great many people willing to shell out for the chance to own one.
New Zealand's Civil Aviation Authority however is unimpressed, not least because current legislation does not cater for this type of device but also because technically the jetpack isn't actually a jetpack. "It's a misnomer to call it a jetpack because it is a ducted fan," said special flight operations manager Rex Kenny. "It's a lift device really. When we looked at our rules, microlight was the closest."
Unlike the traditional idea of a jetpack which uses actual jets, the Martin Jetpack uses a gasoline engine to power two ducted fans which help propel it in to the air. Nonetheless its capabilities cannot be denied and with a public release looming it is likely to be hitting the headlines in New Zealand when it is finally made available to the public within the next few months.
Source: Wall Street Journal | Comments (26)
Similar stories based on this topic:
Tags: Jetpack