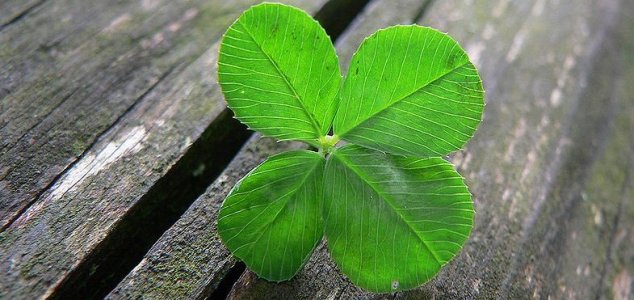 Four-leaved clovers are thought to provide good luck.

Image Credit: CC BY-SA 2.0 Umberto Salvagnin
Researchers have investigated the alleged effectiveness of several bad luck mitigation techniques.
Those who are superstitious will often try to avoid certain actions that they believe to be bad luck such as walking under a ladder, breaking a mirror or the idea that simply stating that something bad won't or hasn't happened will 'jinx' the situation and make it more likely that it will.
To counter these concepts, some people employ a variety of good luck techniques such as knocking on wood or throwing salt over their shoulder. There is next to no evidence to suggest that doing any of these things has an actual measurable, physical affect on anything whether good or bad, however the psychological impact of these actions can often be all too real.
Researchers conducted a series of experiments in an effort to determine what effect these luck mitigation methods have on people's mindsets and whether there is a difference in the effectiveness of each technique. Participants were each given a number of tasks that included both common 'good luck' actions and actions that were not associated with luck at all.
"Our findings suggest that not all actions to undo a jinx are equally effective," said researcher Jane Risen. "Instead, we find that avoidant actions that exert force away from one's representation of self are especially effective for reducing the anticipated negative consequences following a jinx. Engaging in an avoidant action seems to create the sense that the bad luck is being pushed away."
Source: Science World Report | Comments (22)
Tags: Bad luck