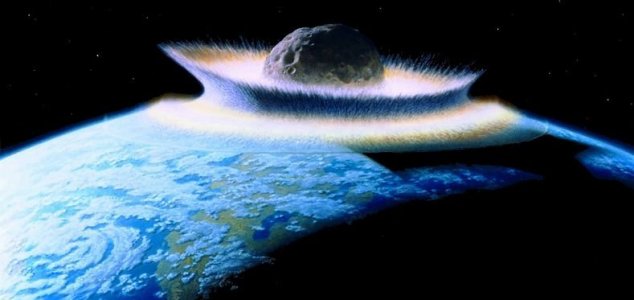 The dinosaurs were the victim of colossal bad luck.

Image Credit: NASA/Don Davis
Scottish scientists believe that the dinosaurs were wiped out by a series of consecutive disasters.
While there is little doubt that a huge asteroid impact at the end of the Cretaceous was a major contributing factor in the extinction of the dinosaurs, overall it may have been a run of bad luck, as oppose to any one disaster, that ultimately wiped them out.
In a new study, palaeontologists have determined that the prehistoric world had already been ravaged by a long string of natural and environmental disasters long before the asteroid hit.
Volcanism, fluctuating temperatures and a rising and falling sea level would have all played a part in reducing diversity among the large plant-eating dinosaurs of the age, weakening the overall food chain and making those that survived less resilient to further environmental changes.
By the time the asteroid struck the remaining dinosaurs didn't stand a chance.
"The dinosaurs were victims of colossal bad luck," said geoscientist Dr Steve Brusatte. "Not only did a giant asteroid strike, but it happened at the worst possible time."
Source: Scotsman | Comments (24)
Tags: Dinosaur, Extinction