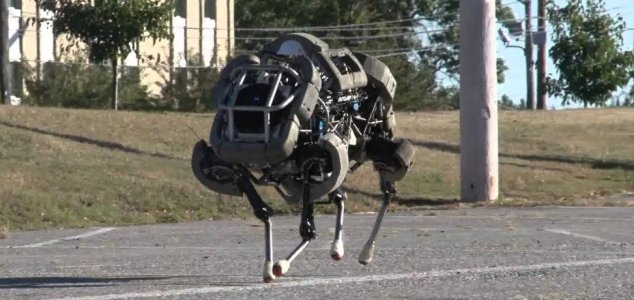 You don't want to see this thing bounding towards you.

Image Credit: Boston Dynamics / YouTube
The DARPA funded project has produced a quadrupedal robot that is able to run like a cheetah.
The terrifying contraption moves in an eerily life-like way and can bound along at up to 16mph. While previous iterations of the robot were confined to the laboratory and needed to be hooked up to multiple cables, this new version has an on-board power system and can go anywhere it likes.
The robot was designed by Boston Dynamics as part of DARPA's Maximum Mobility and Manipulation Program which is aimed at producing robots that are able to move across natural environments with ease.
Having a WildCat bounding towards you might seem like a terrifying prospect but it does suffer from a few drawbacks. Equipped with a noisy go-kart engine, the robot is so loud that you'd hear it coming a mile away. Also without being hooked up to a power source WildCat's battery will only allow it to run at full-speed for a matter of minutes.
Source: CNET | Comments (22)
Tags: Boston Dynamics, DARPA