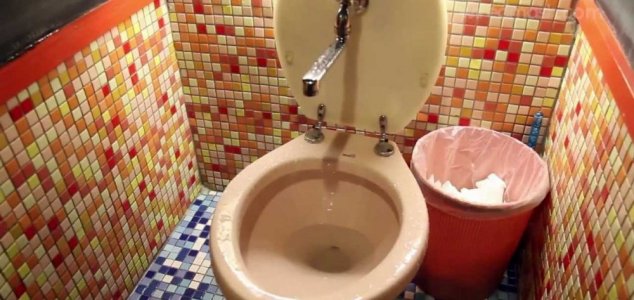 Even the sink is shaped like a toilet bowl.

Image Credit: YouTube / WiredMash
An eatery with a rather unusual theme is set to entertain and disgust its customers in equal measure.
It would seem to be at odds with what people want to see when enjoying their favorite foods, but having enjoyed an unusual spate of success in Taiwan the idea of the toilet-themed restaurant has now made its way to American shores.
Diners have to sit on actual toilet bowls while eating their food which is served in a variety of toilet bowl and urinal-shaped dishes and plates. Even the food itself is toilet-themed with such mouth-watering delights as "constipation" and "black poop" sure to elicit more than a few quizzical stares from customers.
"They come here, they say 'Wow, a toilet. You can sit on a toilet,'" said manager Gin Han. "Some customers will open the toilet, and sit like this and sometimes they ask where's the restroom and I will say you can go here."
Reactions from the public have been understandably mixed. "I thought it was a little odd," said one customer from Florida. "I think it's kind of a cool gimmick to get people to come in."
Source: CBS Local | Comments (24)
Tags: Toilet, Restaurant