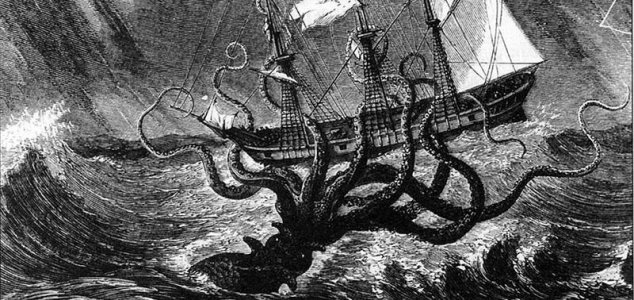 The kraken was said to drag ships in to the depths.

Image Credit: Mary Evans Picture Library/Alamy
Some researchers believe that there is enough evidence to suggest that the kraken actually existed.
The most infamous of all deep sea monsters, the legendary kraken has been the subject of folklore, mythology and science fiction for centuries. Often depicted as a humongous squid-like creature, the beast was said to have devoured ships and consumed many an unwary sailor to satiate its appetite.
Stories of the kraken may not be entirely restricted to the realm of fiction however as recent research has revealed tantalizing evidence that this behemoth of the deep may have actually been a real creature, albeit a prehistoric one.
Palaeontologist Mark McMenamin believes that he's found signs of a large octopus-like creature by analyzing the way in which the remains of 14-metre ichthyosaurs at Nevada's Berlin-Ichthyosaur State Park are arranged.
According to McMenamin, the way the bones are organized is the same as the way modern-day octopus species tend to arrange and fiddle with bones. He also believes the remains were found in a much deeper part of the ocean, an environment in which large cephalopods are likely to be found.
His most convincing piece of evidence however is a rock that is believed to be a fossilized segment of a giant octopus' beak. Comparisons between the prehistoric beak and that of a modern day Humboldt squid have revealed striking similarities.
"I suppose the kraken argument is a possibility, but one of many, and a highly unusual one," said palaeontologist Spencer Lucas. "What we need here is a more rigorous analysis that excludes the many alternatives to the kraken idea."
Source: ABC News | Comments (18)
Tags: Kraken