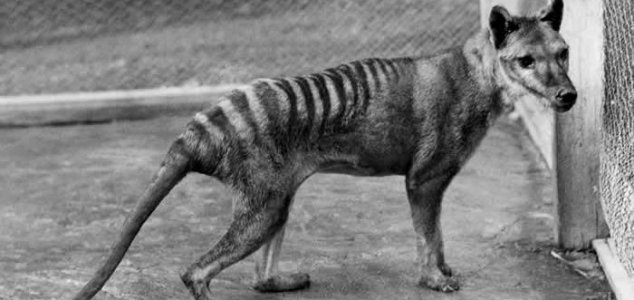 A thylacine at Hobart Zoo photographed in 1928.

Image Credit: Benjamin A. Sheppard
A team from the Centre for Fortean Zoology is in Tasmania hunting for signs of the 'extinct' thylacine.
Investigators including Dr Chris Clarke and Richard Freeman are now one week in to their two-week expedition in search of evidence that the thylacine, a species that was declared officially extinct in the 1980s, still survives in the wilds of Tasmania.
The team has spoken to several "highly credible" witnesses and even claims to have discovered some feces that could be from one of the elusive creatures. Samples of the droppings have been preserved in alcohol and sent away to be DNA tested to see what animal they belong to.
"If we get the DNA from them, thatíll be interesting," said Freeman. "They are far too big for a Tasmanian devil and it canít be a dog. Why would a dog be so far out there? Itís a very remote area."
Despite nothing conclusive so far, the expedition team is adamant that there is "no doubt" thylacines have survived and that the evidence is just waiting to be found.
"The area is so damn remote, there are so many prey species and we have so many reliable witnesses who know the bush that Iíd say there is a reasonable population of them left," said Freeman. "Iíd say there are more of them around in the world than Javan rhinos."
Source: The Guardian | Comments (51)
Tags: Thylacine