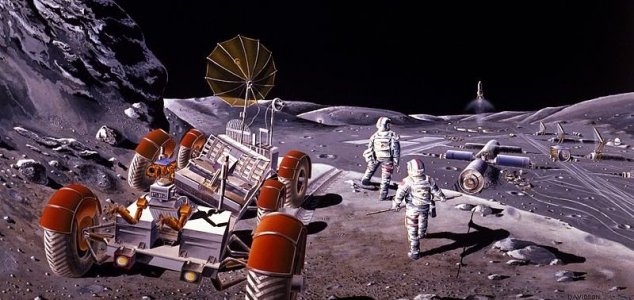 An artist's impression of a moon base.

Image Credit: NASA/Dennis M. Davidson
The Bigelow Aerospace Inc. chief is calling for the rights to conduct mining operations on the moon.
Private space companies may soon be paving the way towards a whole new industry of space-based mining operations, that is according to Robert Bigelow who has called on the US government to provide lunar mining rights to companies that help to develop new technologies for NASA.
"The time has come to get serious about lunar property rights," he said. "Ultimately, permanent lunar bases will have to be anchored to permanent commercial facilities. Without property rights there will be no justification for investment and the risk to life."
The concept of mining in space has been gaining momentum in recent years which several companies announcing future plans to tap in to asteroids as a source of valuable materials.
With NASA planning to bring a small asteroid in to near-Earth orbit within the next decade, it may not be too long before the idea of mining in space becomes a reality.
Source: National Geographic | Comments (33)
Tags: Bigelow, Mining, Moon