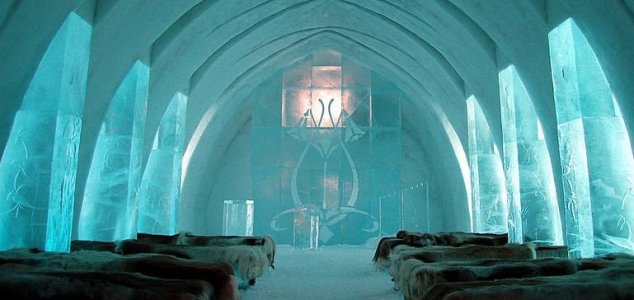 The church at Jukkasjarvi's ice hotel.

Image Credit: CC BY 2.0 bjaglin
A hotel in Sweden made entirely out of ice has been ordered to install alarms in case there is a fire.
Located in the Arctic town of Jukkasjarvi, the ice hotel attracts tourists from all over the world. With corridors, rooms and furniture made entirely out of ice and snow, the accommodation might be a little on the chilly side but offers an experience that is undeniably unique.
Each year the hotel melts in the spring and has to be rebuilt the following winter. Workers use layers of a special combination of ice and snow called 'snice' as it is both lighter than ice and stronger than snow. The mixture is sprayed over specially prepared frames which are later removed once the ice has set.
This year however the hotel has been forced to include one additional feature that has many people scratching their heads - an alarm system to warn people in the event of a fire.
"We were a little surprised at first, but the reason is that there are things that can actually catch fire, like pillows, sleeping bags or reindeer skins," said spokeswoman Beatrice Karlsson. "To us the most important concern is the safety of our clients, so we will comply."
Source: Sky News | Comments (15)
Tags: Ice Hotel