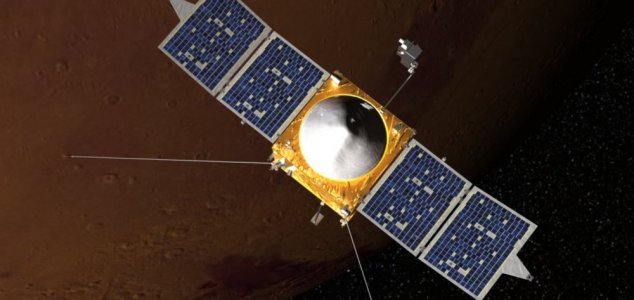 Maven should enter orbit around Mars in September 2014.

Image Credit: NASA
The next spacecraft headed for the Red Planet has launched successfully from Cape Canaveral.
Rather than landing on the surface like the Curiosity rover, Maven will instead remain in orbit around Mars so that it can study the planet's atmosphere.
Mars is believed to have been once surrounded by a thick atmosphere that made it possible for liquid water to exist on its surface. Gradually however these gases were lost and NASA hopes that Maven will help to explain how this happened. Today the atmosphere is so thin that any liquid water on the surface would simply boil away immediately.
The $671m spacecraft launched on top of an Atlas V rocket at 13:28 local time and successfully separated after 53 minutes before deploying its solar panels and orienting itself for the trip.
"Everything looks good. The signals are coming in fine, and so far the systems that are on are reporting back great. We're heading out to the Red Planet," said project manager David Mitchell.
Source: BBC News | Comments (7)
Similar stories based on this topic:
Tags: Mars, Maven, NASA