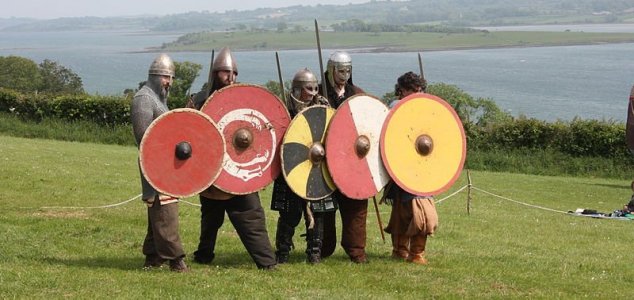 A reenactment at the Magnus Barelegs Viking Festival.

Image Credit: CC BY-SA 3.0 Ardfern
According to Norse mythology the Vikings have their own version of doomsday and it is fast approaching.
The end of the world has come and gone several times over the last few years, from the turn of the millennium to the Mayan apocalypse, mankind seems obsessed with the fear of armageddon and the demise of all life as we know it.
The next such event, known as Ragnarok, is based on Norse mythology and tells of events leading up to the end of days. The countdown begins with the blowing of the horn of the Norse god Heimdallr to signify the world's impeding destruction which is allegedly due to happen on February 22nd 2014.
According to the myth, Ragnarok will occur when the god Odin is killed by the wolf Fenrir and the world will be born again. As the apocalypse ensues the sun's rays will turn black and the land will be ravaged by treacherous weather.
"Ragnarok is the ultimate landmark in Viking mythology, when the gods fall and die, so this really is an event that should not be underestimated," said Danielle Daglan, director of the Jorvik Viking Festival in York.
Source: IB Times | Comments (244)
Similar stories based on this topic:
Tags: Viking, Norse