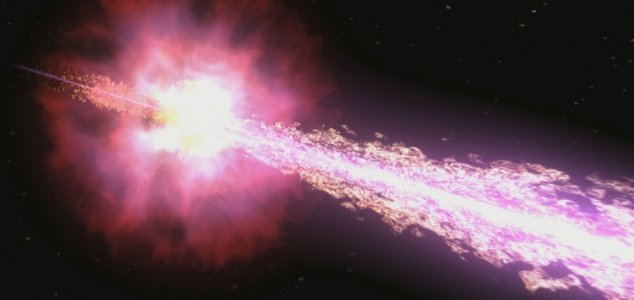 The supernova explosion is the largest ever observed.

Image Credit: NASA/Swift/Cruz deWilde
A powerful supernova in a distant galaxy has produced the largest gamma ray burst ever detected.
Referred to by scientists as "the monster", the enormous explosion was picked up by telescopes last spring and is the most powerful ever recorded. Located in a galaxy 3.7 billion light-years away, the event has been hailed as a "once-in-a-century cosmic event" by NASA astrophysics chief Paul Hertz who spoke about its discovery at a conference on Thursday.
Gamma ray bursts are typically produced when a massive star dies and collapses in to a black hole, an event that generates a huge explosion known as a supernova.
If one of these happened to go off in a nearby star system within our own galaxy then it would spell certain doom for our planet, however fortunately the odds of this happening are estimated to be less than 1 in 10 million.
"These are really neat explosions," said Stanford physicist Peter Michelson. "If you like fireworks, you can't beat these. Other than the Big Bang itself, these are the biggest there are."
Source: Independent | Comments (12)
Tags: Supernova