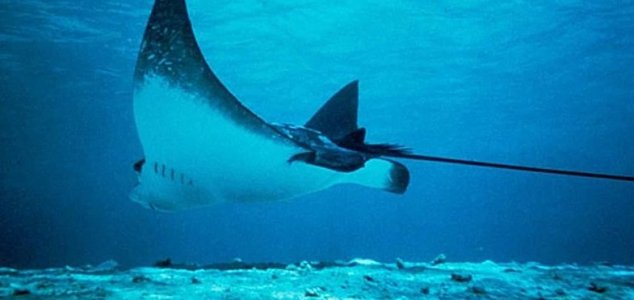 The skate was caught off Miami beach.

Image Credit: USFWS
A fisherman from Florida has made headlines after catching a massive 800-pound skate fish.
Captain Mark Quartiano, who also goes by the nickname "Mark the Shark", caught the 14ft behemoth while filming a Japanese TV series. Described as a "dinosaur", the huge fish is a
Dactylobatus clarkii
, often referred to as a "hookskate".
"I've caught one like it before, but never that size, not in the last 30 years Iíve been doing this," he said. "Itís a very rare fish. Itís like a big gigantic whipping stingray."
Quartiano caught the skate at a depth of approximately 500ft and opted to let it go once it had been weighed and photographed. Little is known about this particular species which makes the catch all the more impressive.
"It was very old. It had barnacles all over it," he said. "Stingrays are usually pretty good to eat, but this one as table fare? I donít know how that would work out."
Source: ABC News | Comments (11)
Tags: Skate, Fish