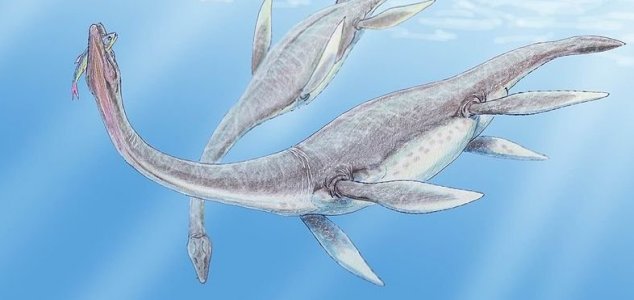 Plesiosaurs were common in the prehistoric seas.

Image Credit: Dmitry Bogdanov
Palaeontologists have uncovered the remains of a huge prehistoric predatory marine reptile.
The fossil remains were unearthed in Boyaca, a landlocked region of Columbia that was believed to have been flooded during the Cretaceous era. The ancient marine reptile is a plesiosaur, a 26ft aquatic carnivore that would have once been found all across the world's oceans.
"This animal lived approximately 130 million years ago," said palaeontologist Maria Paramo. "At that time, almost half of Colombia had a gradual marine flooding that lasted, in the west, until the end of the Cretaceous Period."
More than 100 different types of plesiosaur have been identified over the last two centuries. Featuring a long neck and flat body with four large flippers, these denizens of the deep were believed to have fed primarily on fish.
Myths surrounding these creatures have endured for years, with many cryptozoological lake and sea creatures being attributed by some to surviving members of this ancient and long extinct species.
Source: IB Times | Comments (16)
Tags: Dinosaur, Plesiosaur