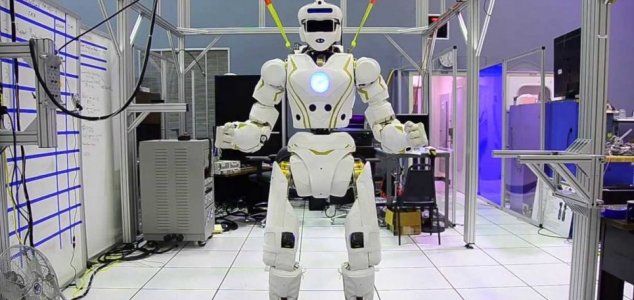 The robot looks like something from a science fiction movie.

Image Credit: IEEE Spectrum
The American space agency has revealed that it has been developing a 6ft robot known as Valkyrie.
Weighing in at 20 stone, NASA's answer to Iron Man features sophisticated articulated legs and arms, a head that can tilt and swivel and hands with three fingers and a thumb.
Capable of tasks such as walking across uneven terrain, driving, climbing ladders and using tools, the robot has been designed to be as autonomous and human-like as possible. At the moment it can operate for around an hour from one charge of the battery it carries around in its backpack.
Valkyrie is NASA's entry in the DARPA Robotics Challenge, a competition that aims to drive innovation towards robots able to take over the tasks conventionally assigned to humans. Competing against it for a $2 million prize will be Boston Dynamics' own Atlas robot which sports a similar humanoid design.
Source: Telegraph | Comments (7)
Tags: NASA, Robot, Valkyrie