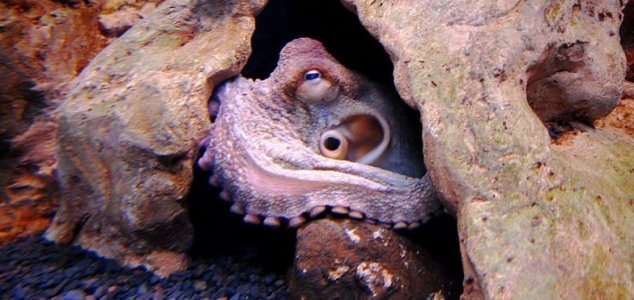 Could something be lurking below ?

Image Credit: CC BY-SA 3.0 Eistreter
An undiscovered species of octopus could be lurking in the depths of Oklahoma's otherwise tranquil lakes.
A spate of unexplained drowning deaths in Lake Thunderbird, Lake Tenkiller and Lake Oolagah in Oklahoma has lead some to theorize that there could be something lurking beneath the waters that we don't yet know about.
The most popular (and controversial) theory is that the culprit is a new species of octopus that has developed the ability to live in fresh water. The so-called "Oklahoma Octopus" was even featured on an episode of Animal Planetís "Lost Tapes" series and is believed to drown its victims by dragging them below the surface using its powerful arms.
The feasibility of such a creature remains however heavily in doubt and despite the widespread success of the octopus as a species, no cephalopod has ever managed to transition entirely to a freshwater environment.
Skeptics argue that a large catfish, as oppose to an octopus, is most likely to be responsible for the mysterious deaths occurring in the lakes, but as with many such mysteries it is unlikely that we can ever entirely rule out the possibility that an unknown cephalopod could be lurking in the depths, waiting patiently for a hapless swimmer to pass overhead.
Source: Yahoo! News | Comments (29)
Similar stories based on this topic:
Tags: Octopus