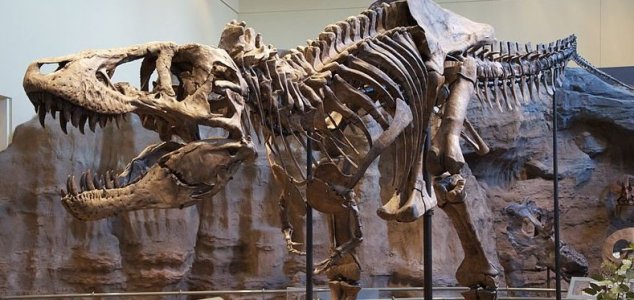 Could a Tyrannosaurus rex roam the Earth once again ?

Image Credit: CC BY-SA 3.0 Scott Robert Anselmo
According to one biochemist, it may one day be possible to 'de-evolve' birds back in to dinosaurs.
While recent research in to the viability of retrieving usable DNA from prehistoric blood-sucking insects trapped in amber has suggested that a real-life Jurassic Park might be an impossibility, elsewhere scientists have been looking at a little known alternative process through which the dinosaurs could be brought back from extinction.
Oxford biochemist Dr Alison Woollard has suggested that dinosaurs might be accessible through the genetics of their modern day descendents - the birds. The method would involve effectively 'de-evolving' birds in to dinosaurs by 'switching on' the long dormant genes associated with dinosaur-like behaviors and attributes.
"We know that birds are the direct descendants of dinosaurs, as proven by an unbroken line of fossils which tracks the evolution of the lineage from creatures such as the velociraptor or T-Rex through to the birds flying around today," said Dr Woollard.
"Could we 'rewind' evolution by switching these genes back on and using them to guide the development of that bird's offspring, and its offspring's offspring, backwards?"
Source: Telegraph | Comments (27)
Similar stories based on this topic:
Tags: Dinosaurs