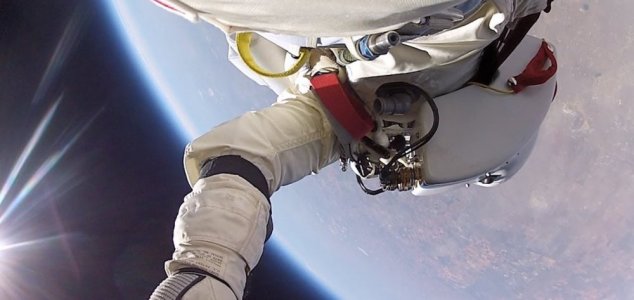 Baumgartner fell over 127,000ft.

Image Credit: YouTube / GoPro
The breathtaking new video shows a first person view of the jump from space in unprecedented detail.
Austrian skydiver Felix Baumgartner became a household name after his record-breaking jump from a high altitude capsule back in October 2012. After leaping from the platform he plummeted more than 127,000ft to the Earth at speeds of up to 843.6 miles per hour.
The sensational dive was filmed by a set of seven GoPro cameras and now thanks to newly released footage of the event it is possible to get a taste for what it was like on the way down.
Included in the footage is a first-person view of the harrowing moment the descent turned in to a deadly spin along with the reactions of his team on the ground after he managed to regain control.
The original event was live-streamed on to YouTube and watched by over 8 million people worldwide.
Source: LA Times | Comments (10)
Tags: Felix Baumgartner