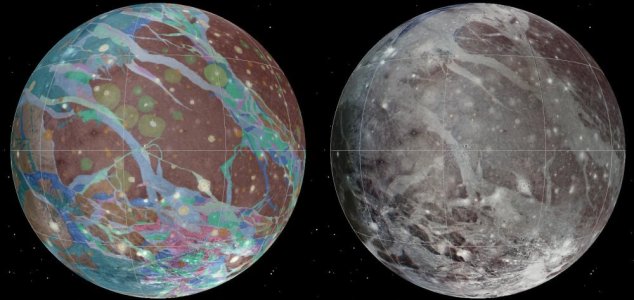 Ganymede orbits Jupiter once every seven days.

Image Credit: NASA / USGS
The largest moon in the solar system has been mapped in unprecedented detail thanks to a new project.
A satellite of Jupiter, Ganymede is larger than both Mercury and Pluto, meaning that if it wasn't circling the gas giant it would most likely be considered a planet in its own right.
With a surface composed of light and dark materials, a mass that is twice that of our moon and the distinct possibility of a subsurface liquid water ocean, Ganymede remains one of the most intriguing bodies in the solar system.
Now scientists have gathered together data collected by the Voyager I, Voyager II and Galileo missions to piece together a complete map of the moon's surface, making it possible for the first time to understand what it might be like for someone visiting this enigmatic world.
"Ganymede is such a big place, and has such a wide variety of features that you can find analogues for other icy satellites," said Geoffrey Collins of Wheaton College. "If you had to pick one icy moon that had the total variety of features found on other moons, you would pick Ganymede."
Source: LA Times | Comments (5)
Tags: Ganymede, Jupiter