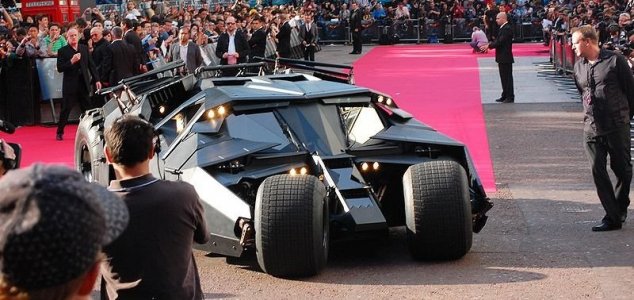 The Batmobile arrives on the red carpet.

Image Credit: CC BY-SA 2.0 Cristiano Betta
A fully functioning and roadworthy 'Tumbler' Batmobile has now been made available for purchase.
Costing a whopping $1 million, the highly accurate replica not only looks the part but can also be legally driven on the streets as well. The famous vehicle was used by Christian Bale's Batman in all three of Christopher Nolan's "Dark Knight" movies.
In addition to its iconic status the Tumbler comes complete with driver-assist cameras, Bluetooth connectivity, GPS and a DVD player. Fans of the movies however may be disappointed to learn that it does not come with Batman's usual arsenal of advanced weaponry or the ability to convert in to a two-wheeler when things get dicey.
The original Batmobile, the one designed by George Barris for use in the 1960s TV series, was sold at auction last year for a staggering $4.2 million.
Source: Sky News | Comments (19)
Tags: Batman, Batmobile