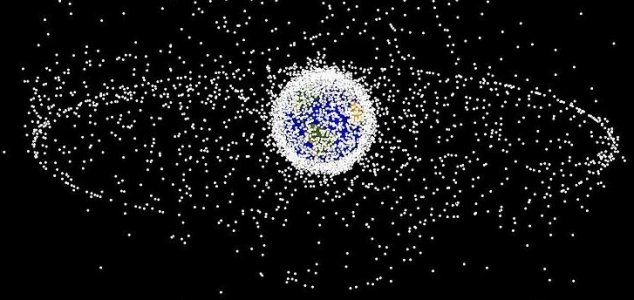 NASA diagram demonstrating the extent to which Earth's orbit is littered with debris.

Image Credit: NASA
Scientists have warned that space debris collisions could have the potential to provoke armed conflict.
Space junk already represents a significant hazard to satellites and spacecraft, but now scientists in Russia have published a new report claiming that it could also have the potential to start a war.
The main problem, they argue, is that there is no way to tell whether a damaged satellite was hit by a fragment of debris or if it was deliberately sabotaged by another country.
Even the smallest pieces of debris, even objects a few millimeters across, can cause irreparable damage to a satellite because they are traveling at speeds of up to 17,500mph.
"The owner of the impacted and destroyed satellite can hardly quickly determine the real cause of the accident," wrote astrophysicist Vitaly Adushkin who concluded that such an event "may provoke political or even armed conflict between space-faring nations."
One such example occurred in 2013 when a Russian satellite was damaged by debris created by China when it shot down one of its own weather satellites five years earlier.
The International Space Station is also often forced to take evasive action to avoid space junk.
The report concluded that unless something is done to curb the quantity of debris in orbit then collisions will become increasingly likely - as will the potential for associated political strife.
Source: Independent | Comments (11)
Similar stories based on this topic:
Tags: Space Junk, World War 3