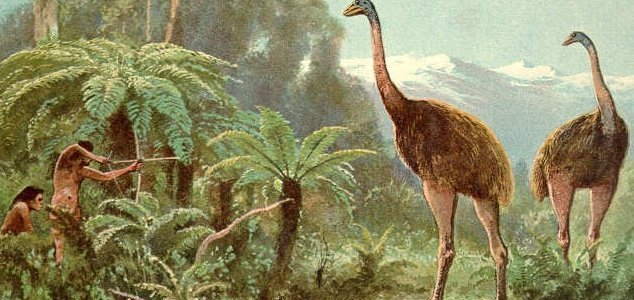 The flightless moa went extinct in the 13th century.

Image Credit: Heinrich Harder
Were we solely responsible for the species' extinction or were there other factors at work ?
New Zealand had been home to several species of moa for millions of years until around 600 years ago when they disappeared at around the same time as the first humans arrived on the islands.
Researchers naturally concluded that hunting and other human activities were responsible for their demise, however the possibility of other factors, such as disease or even a natural disaster like a volcanic eruption, had not been ruled out.
In a new study of moa bone remains, scientists have been able to piece together the clearest evidence to date that it was indeed almost exclusively human hunting that wiped out the birds. In addition to this the findings suggest that our ancestors may have been responsible for the disappearance of a great many species of animals all across the world.
"We like to think of indigenous people as living in harmony with nature," said evolutionary biologist Morten Allentoft. "But this is rarely the case. Humans everywhere will take what they need to survive. That's how it works."
Source: Sciencemag.org | Comments (40)
Tags: Moa, New Zealand