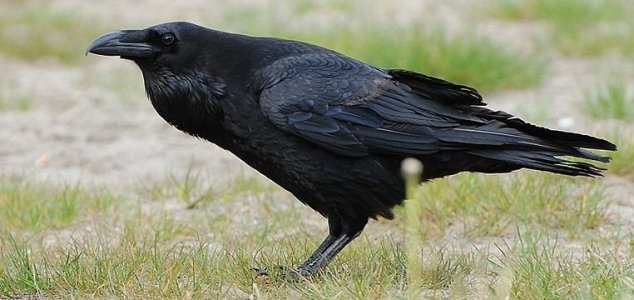 Crows have long been considered intelligent birds.

Image Credit: CC BY-SA 3.0 R. Altenkamp
Researchers have discovered that some species of crow are remarkably adept at problem solving.
To determine just how clever these birds actually are, a series of experiments were carried out in which New Caledonian crows were tasked with solving a number of simple puzzles that rewarded them with some food if they got it right.
The most telling of these conundrums was the classic water displacement test - the birds were faced with a number of water-filled tubes with food floating on the surface just out of reach. To get the treat they had to drop items in to the water to raise the surface level.
Amazingly the crows appeared to know exactly what to do, selecting solid non-floating objects to drop in to the tubes. The birds also seemed to demonstrate logical decision-making by opting to work on the tube with the highest existing water level. The crows didn't do so well however on tasks involving a U-shaped tube or where the tube's width came in to play.
"These results are striking as they highlight both the strengths and limits of the crows' understanding," said lead researcher Sarah Jelbert. "In particular, the crows all failed a task which violated normal causal rules, but they could pass the other tasks, which suggests they were using some level of causal understanding when they were successful."
Source: The Guardian | Comments (46)
Tags: Crow, Intelligence