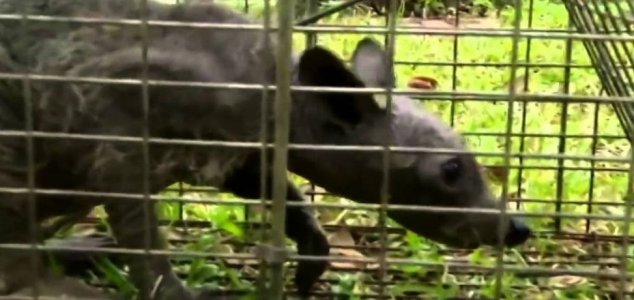 The creature was kept in a cage outside.

Image Credit: YouTube / WMUR
Jackie Stock and her husband Arlen Parma caught a strange hairless animal at their home in Ratcliffe.
The couple encountered the creature, a dark skinned hairless dog-like animal, after Parma spotted it outside on their property in Texas. "He called me to come and look, and I said 'Bubba that looks like a baby chupacabra,'" said Stock.
Local news agencies were quick to pick up on the story with headlines suggesting that the enigmatic critter was in fact the legendary chupacabra, a carnivorous quadruped said to be responsible for a spate of farm animal deaths over the last few decades.
This isn't the first case of its kind either - there have been several reports of both dead and captured chupacabra over the years. Most of these however have turned out to be more mundane animals suffering from mange, a condition that sees their fur falling out resulting in an unusual appearance.
It is thought that the creature in this case, far from being the goat-sucking predator, could in fact be little more than a hairless raccoon or possum suffering from the condition.
Source: New York Daily News | Comments (91)
Tags: Chupacabra, Dog