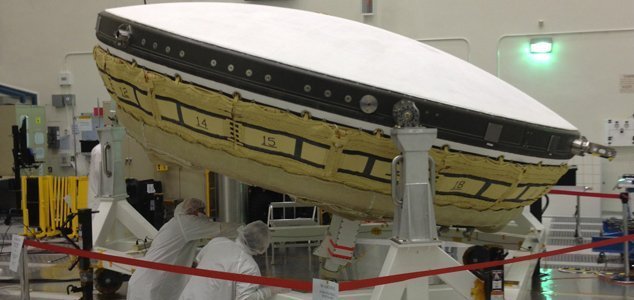 Engineers prepare the LDSD for testing.

Image Credit: NASA / JPL
The space agency is preparing to test a new vehicle that is designed to help astronauts explore Mars.
The Low-Density Supersonic Decelerator (LDSD), which resembles the classic 'flying saucer' shape, is now fully assembled at the U.S. Navy's Pacific Missile Range Facility in Hawaii.
The vehicle's purpose is to assist in the process of bringing extremely heavy payloads safely down to the surface of Mars from orbit using a 100ft-wide parachute and two devices known as Supersonic Inflatable Aerodynamic Decelerators.
The system is designed to be the successor to the landing mechanism used by the Curiosity rover which was the heaviest object ever to land on Mars. The LDSD system will enable much larger and heavier objects, such as a human habitation module for a future manned mission, to be landed safely on the surface.
"This first test is a true experimental flight test," said NASA's Ian Clark. "Our goal is to get this first-of-its-kind test vehicle to operate correctly at very high speeds and very high altitudes."
Source: Live Science | Comments (26)
Tags: LDSD, NASA, Mars