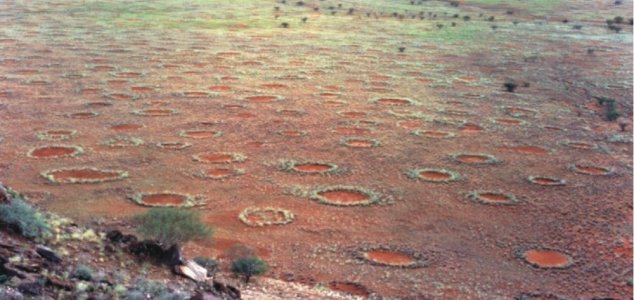 A selection of fairy circles photographed in Namibia.

Image Credit: CC BY-SA 3.5 Stephan Getzin
The mysterious circles of the Namibian grasslands don't appear to have been caused by termites after all.
Consisting of perfectly circular patches of barren dirt in the otherwise grass-filled landscape, fairy circles have been baffling experts for decades. Each ring measures up to 65ft in diameter and can last for an extremely long time with some persisting for up to 75 years.
Last year biologist Norbert Juergens, who had conducted a six-year survey to investigate which organisms were living within the circles, seemed to have solved the mystery when he concluded that the ring-shape patterns were the result of termites feeding on the grass roots.
Now however researcher Stephan Getzin and his colleagues have cast doubt on this theory on the basis that termites, far from being distributed in perfect circles, exist in far more irregular clusters and couldn't possibly have produced such perfect ring shapes by eating grass.
"There is, up to now, not one single piece of evidence demonstrating that social insects are capable of creating homogenously distributed structures on such a large scale," said Getzin.
Instead, the researchers believe that the circular patterns could be the result of the grass growing in self-regulating patterns in response to the competition for water in the arid Namibian climate.
Source: Discovery News | Comments (30)
Tags: Fairy Circles