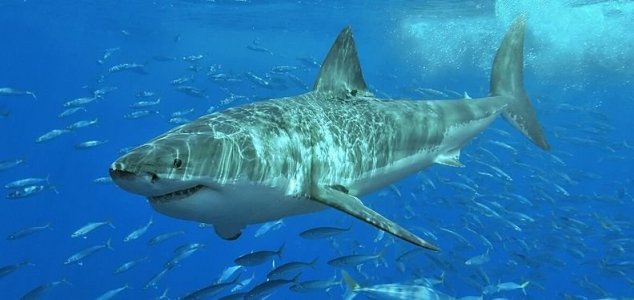 The infamous great white shark.

Image Credit: CC BY-SA 3.0 Terry Goss
One of the largest great white sharks ever found has been tagged off the coast of Western Australia.
Measuring 5.3m in length and weighing in at 1.6 tons, the tagging of this aquatic giant is being hailed as a major breakthrough in shark research.
Despite only having a boat that was marginally larger than the shark itself, three Fisheries staff took over two hours to subdue the creature off the coast off Mistaken Island.
"This is very exciting and potentially a world first," said Mark Kleeman, project manager of the Shark Monitoring Network. "It is something we have been striving for and it is great to prove we can handle an animal of that size."
The tag will provide tracking data for the animal for up to 10 years, giving experts a unique opportunity to study the behavior of such a large shark for the first time.
"We are excited by the potential of what this shark can give us," said Kleeman.
Source: WA Today | Comments (32)
Tags: Shark, Great White