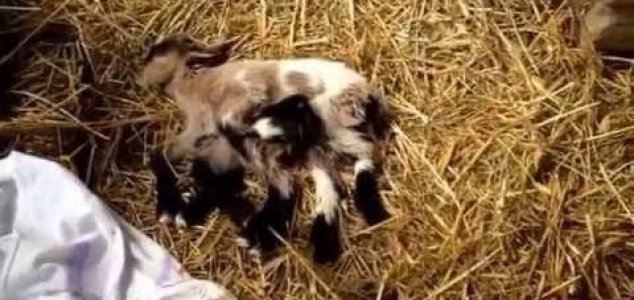 The 'octogoat' sleeping in the straw.

Image Credit: YouTube / Mihael Hnatysyn
Not only does it have 8 legs but it also appears to possess both male and female reproductive organs.
Farmer Zoran Paparic couldn't believe his eyes when the bizarre specimen, complete with eight fully developed legs, was born on his farm to a goat named Sarka.
"I counted his legs and I thought I was seeing things," he said. "Then I called my neighbor to make sure that I am not crazy."
It is believed that the additional appendages are due to an underdeveloped twin sibling that ended up partially conjoined to the newborn. Even more unusual is the fact that as a result of the twin being female, the "octogoat" has a set of both male and female reproductive organs.
Source: YouTube | Comments (40)
Tags: Octogoat