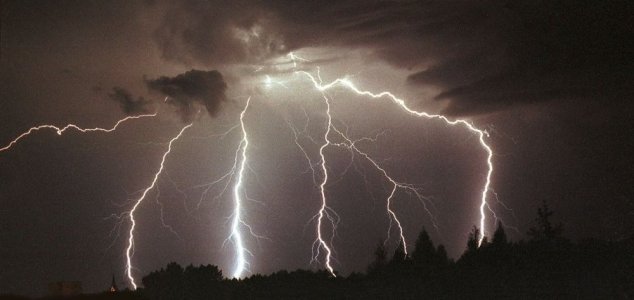 Lightning can strike several people at once.

Image Credit: CC BY-SA 2.5 Blyskawica
Five members of the same family were struck by a bolt from the blue while out in their garden.
They say lightning never strikes twice, yet in the case of one family living in the German city of Chemnitz, it didn't need to. A freak lightning strike in the otherwise safe haven of their back yard sent a nine-year-old boy, his grandmother, his aunt, his mother and his two siblings to hospital.
One of the family, Ricarda, had been chopping wood when the incident happened. As it started to rain she got up to take in the garden furniture when she felt what she described as "a tingling sensation from head to toe." As she came to her senses she realized that she must have been struck by a bolt of lightning and that she had not been the only one affected.
"There was chaos," she said. "Everybody was just acting on autopilot. A few minutes later the ambulance arrived." Her nine-year-old nephew stopped breathing and had to be resuscitated before being rushed to intensive care. The others were taken to hospital as well to be treated but only suffered comparatively minor injuries.
More than 24,000 people are killed and a further 240,000 injured every year by lightning strikes.
Source: Independent | Comments (6)
Tags: Lightning