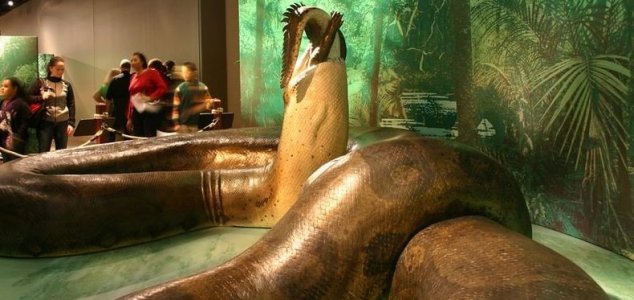 Titanoboa exhibit at the Smithsonian Museum.

Image Credit: CC-BY 2.0 Ryan Somma
Two behemoths of the prehistoric world may have battled for dominance in rivers 60 million years ago.
The Cerrejon coal mine in Colombia has been home to a treasure trove of palaeontological finds lately including a newly identified species of giant freshwater crocodile known as Anthracosuchus and several specimens of Titanoboa, the largest and heaviest snake to have ever lived.
Weighing 1,200kg and measuring up to 42ft in length, Titanoboa would have dominated the prehistoric tropics by crushing even the strongest of its prey with its deadly constricting coils.
Anthracosuchus on the other hand measured up to 16ft in length but could still hold its own thanks to a set of huge jaws filled with rows of razor sharp teeth.
Both Titanoboa and Anthracosuchus were believed to have lived alongside one another during the same period in the same rivers, suggesting that at least some of the time these two behemoths of the prehistoric world would have engaged in clashes of epic proportions.
"Every once in a while, there was likely an encounter between Anthracosuchus and Titanoboa," said study co-author Jonathan Bloch. "Titanoboa was the largest predator around and would have tried to eat anything it could get its mouth on."
Source: Earthsky.org | Comments (13)
Tags: Titanoboa, Snake, Crocodile