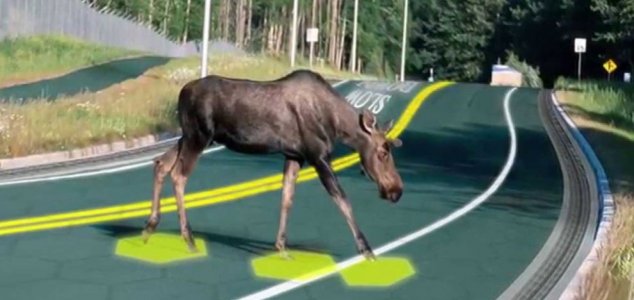 The panels can detect obstacles on the road.

Image Credit: YouTube / Scott Brusaw / Michael Naphan
A record number of backers are helping to crowdfund a revolutionary new type of road covering.
The brainchild of Scott and Julie Brusaw, the idea of replacing existing road surfacing with special hexagonal solar panels has been gaining widespread support and attention.
Created from tempered glass, the panels would be applied to all roads and parking lots to produce a network of interconnected surfaces capable of generating electricity while acting as a more durable alternative to conventional tarmac.
These solar roadways would also provide a host of additional benefits including the ability to light up in custom displays, making roads safer and easier to navigate at night while offering automated warning notices of upcoming hazards. Heating circuits would melt any ice on the roads while obstacles like potholes would become a thing of the past.
The idea has proven so popular that a crowdfunding campaign on Indiegogo has received over $1.8 million in contributions from 42,000 people within just a few weeks.
While some engineers have criticized the solar roadways concept as impractical, it's hard to dismiss the idea entirely. If indeed something like this were to actually happen it would undoubtedly represent one of the single greatest improvements in road technology ever conceived.
Source: CNET | Comments (39)
Tags: Crowdfunding, Solar Roadways