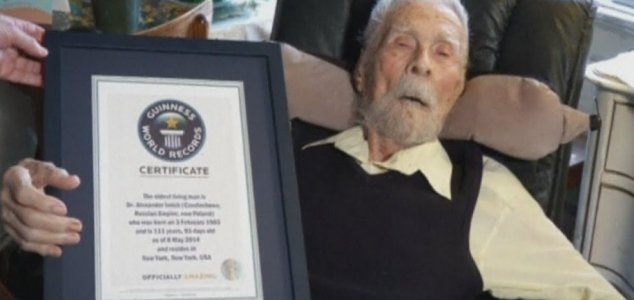 Imich receiving his certificate back in April.

Image Credit: YouTube / ITN
Chemist and psychic researcher Alexander Imich passed away at a seniors' residence in Manhattan.
The Polish-born supercentenarian had taken over the title of world's oldest man when Italian Arturo Licata, who was also 111, died on April 24th.
Imich attributed his longevity to many things including exercise, a minimal diet and the fact that he didn't drink, but what he assigned the most significance to was the fact that he and his wife, who died in 1986, had never had any children.
"Not like it's the Nobel Prize," he said of his extreme age. "I never thought I'd be that old." Having been born just 10 months before the Wright Brothers' first historic powered flight, Imich had stated that the greatest invention he had witnessed in his life was the aeroplane.
The title of world's oldest man has now passed to Sakari Momoi of Japan who was born just one day after Imich on February 5th, 1903.
Source: The Globe and Mail | Comments (28)
Tags: Alexander Imich, Oldest Man