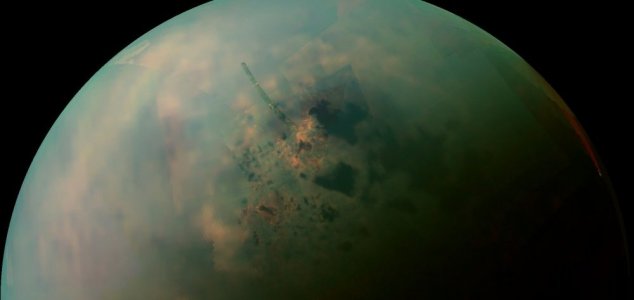 Titan is one of the most fascinating places in the solar system.

Image Credit: NASA/JPL-Caltech
The space agency may use a drone to help explore the terrain of Saturn's enigmatic moon.
Two days ago NASA's Cassini probe once again performed a flyby of Titan as part of its ongoing mission to learn as much as possible about Saturn and its moons. In this particular case scientists are hoping to determine how the temperature varies by altitude in Titan's atmosphere, in particular in its polar regions.
Looking ahead however there is only so much that Cassini can find out from space. To properly explore the surface of this surprisingly Earth-like world there are plans in motion to design, build and launch a drone to Titan that will be able to fly around in its atmosphere and take photographs.
Originally outlined by NASA scientist Larry Matthies, the plan would entail having a 'mothership' lander or balloon that the drone could dock at in order to recharge.
"For a lander mission, it enables detailed studies of a large area around the lander, providing context for the micro-images and samples; with precision landing near a lake, it potentially enables sampling solid and liquid material from one lander," said Matthies.
"For a balloon mission, it enables surface investigation and sampling with global reach without requiring a separate lander or that the balloon be brought to the surface, which has potential for major cost savings and risk reduction."
While the concept sounds ideal it may be some time before such a mission can be feasibly launched. NASA believes that the development of both the spacecraft and its associated technologies could take until the 2040s at the earliest.
Source: Russia Today | Comments (6)
Tags: Saturn, Titan