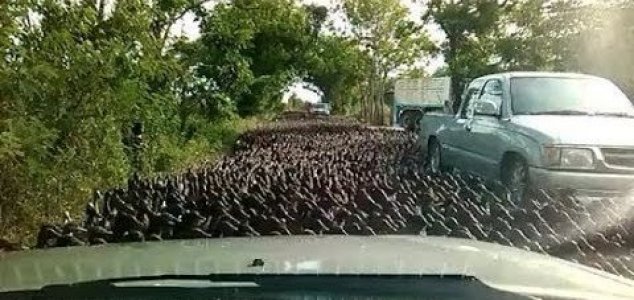 The ducks covered just about every inch of the road.

Image Credit: YouTube / wanwan
A bewildered onlooker filmed the veritable tidal wave of ducks as they flocked down the road en masse.
Efforts by drivers to make their way along the narrow country road proved futile as thousands of the birds flooded down the lane like a river while their collective quacking produced a deafening chorus that drowned out pretty much everything else.
It isn't clear what the circumstances are in the video however it is possible that the ducks were being deliberately herded by farm workers from one place to another.
The driver in the car from which the footage was taken can be seen glancing at his watch and laughing at the bizarre and unexpected delay. Some could argue that he might have had difficulty explaining why he was late when he finally did arrive at his destination.
Source: YouTube | Comments (18)
Tags: Ducks, Thailand