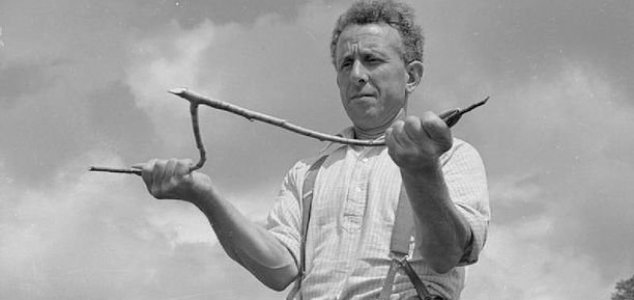 A Y-shaped dowsing rod made from a tree branch.

Image Credit: Imperial War Museum
Dowsers have been seeing a lot of work lately thanks to a third consecutive year of drought.
The controversial method for discovering water buried beneath the ground has been used for thousands of years despite there being no conclusive evidence or explanation to support the notion that the technique actually works.
Thanks to the recent drought however modern day dowsers have been finding themselves in high demand. Some claim to have discovered multiple new sources of water using their metaphysical talents while others haven't been quite so successful.
"I've found at least eight wells for our vineyard, and hundreds of wells for farmers and homes," said Marc Mondavi who has been dowsing for over 40 years and currently makes half of his income from paying customers looking to hire his services.
The age-old practice generally involves using a pair of metal rods or a Y-shaped branch to detect water, oil or other valuable substances hidden beneath the ground. The dowser will typically walk around a property and use the movement of the rod(s) to determine if something is buried there.
"I thought it was the biggest bunch of bull I ever heard in my life," said Greg Storozack who had initially been skeptical of the phenomenon until his cousin persuaded him otherwise.
"I tried it, and I pictured an underground stream in my mind, and I started walking and the rods opened up. We found water."
Source: NBC News | Comments (68)
Tags: Dowsing, California, Drought