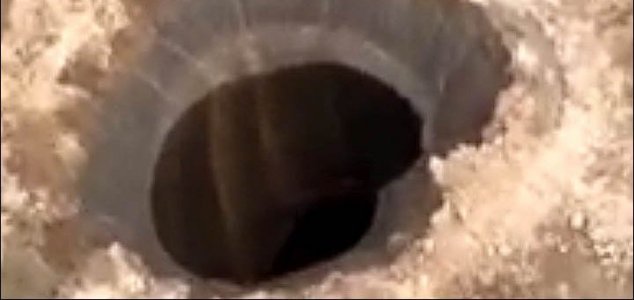 The original hole (pictured) has been accompanied by two more.

Image Credit: YouTube / Bulka
Two new unexplained craters have now been discovered in the permafrost of Russia's far north.
The mystery surrounding Siberia's anomalous craters seems no closer to being solved this week following the revelation that two more have turned up in different regions of the country.
The second hole, like the first, was discovered in the Yamal Peninsula but was situated several hundred kilometers away. With a diameter of 15 meters, the hole is located in the Taz district near the village of Antipayuta and possesses many of the same geological features as its predecessor.
"Undoubtedly, we need to study all such formations," said Earth Cryosphere Institute chief scientist Marina Leibman. "It is necessary to be able to predict their occurrence. Each new funnel provides additional information for scientists."
The third and most recently discovered crater is located in the Taymyr Peninsula where it was found by local herders who almost fell in to it by accident. While not as large as the other two, its diameter is still 4m and its depth is estimated to be up to 100m.
Source: Siberian Times | Comments (33)
Tags: Siberia, Crater, Hole