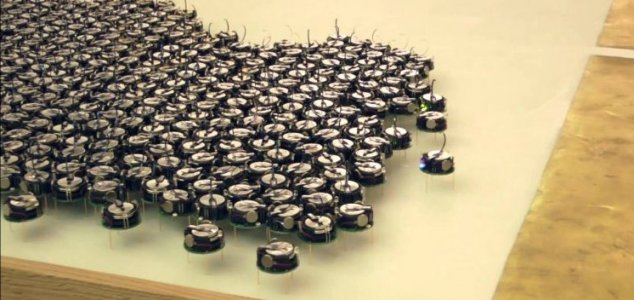 The Kilobots work together to form larger shapes.

Image Credit: YouTube / Harvard
Roboticists have developed a vast swarm of robots that can work together to form two-dimensional shapes.
The miniature robotic army, which to some extent emulates the collective behavior of swarming insects, is the first step towards a future in which robots can work together to form larger and more complex structures and machines.
The robots, which move around on three thin legs, have limited capabilities alone but when combined with their fellows can accomplish far more ambitious goals.
"Itís really a big accomplishment," said Cornell University roboticist Hod Lipson. "Itís the first demonstration of this swarm robotic behavior at the scale of 1,000 physical robots."
Each individual robot uses infrared both to receive instructions from the programmer and to coordinate its efforts with its fellows. Each the size of a one pence piece, the tiny devices are based on the team's previously designed 'Kilobots' which cost around $14 each to build.
A recent demonstration of the technology, which can be watched below, saw 1,024 of the robots work together to form a giant letter 'K' (among other things) using their cooprative capabilities.
Source: Wired | Comments (3)
Tags: Robot, Swarm