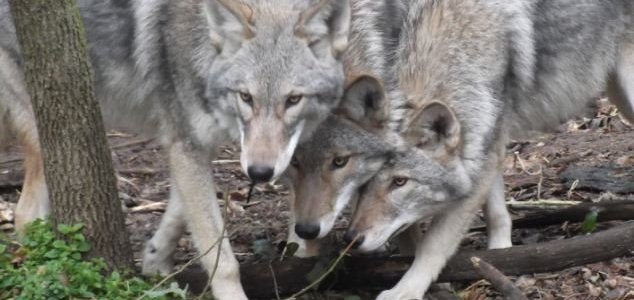 Coywolves being kept in captivity.

Image Credit: CC BY-SA 3.0 L. David Mech et al.
A cross between coyotes and wolves has been taking over in some areas of the United States.
Consisting of around 25% wolf DNA, 66% coyote DNA and the rest from domestic dogs, these unusual cross-breeds have been sighted with increasing regularity in several regions including in West Virginia and to the north of the Great Lakes.
Their presence stems from human hunting activity pushing wolf populations north and coyote populations east from the Great Plains, forcing both species together and enabling them to mate and produce hybrid offspring.
With an entirely new genetic make-up than either species when taken individually, these new coywolves are significantly larger than coyotes and possess strong wolf-like jaws.
Their wolf genes also give them an edge in taking down larger prey while their coyote genes help them to adapt to urban environments. They are also adept at hunting together in packs.
Source: Mail Online | Comments (21)
Tags: Coywolves, Coyote, Wolves