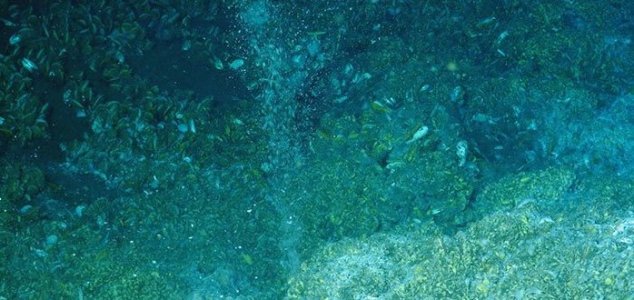 Methane bubbles rising from holes in the sea floor.

Image Credit: NOAA
Scientists have discovered several hundred vents pumping methane out from the bottom of the Atlantic.
In a discovery that certainly doesn't bode well for global warming, hundreds of undersea vents have been found along America's East Coast that are leaking significant amounts of potent greenhouse gases in to the atmosphere.
A total of 570 vents ( or "seeps" ) have been found so far and together these are thought to be leaking 90 tons of methane on an annual basis. The find completely debunks previous claims that there are only three vents present in the region.
"The discovery of widespread methane seepage on the northern U.S. Atlantic margin was indeed surprising," said study lead author Adam Skarke. "This is because [it] lacks the geological properties commonly known to be associated with widespread seafloor methane emissions."
The good news is that the vents are so deep down that the methane is unlikely to be reaching the atmosphere, however it isn't clear what effect these gases might be having on the the local ocean environment. There is also speculation that there could be tens of thousands more vents like these dotted all across the world's oceans.
"The methane is dissolving into the ocean at depths of hundreds of meters and being oxidized," said Skarke. "But it is important to say we simply donít have any evidence in this paper to suggest that any carbon coming from these seeps is entering the atmosphere."
Source: Fox News | Comments (25)
Tags: Methane, Vents, Atlantic