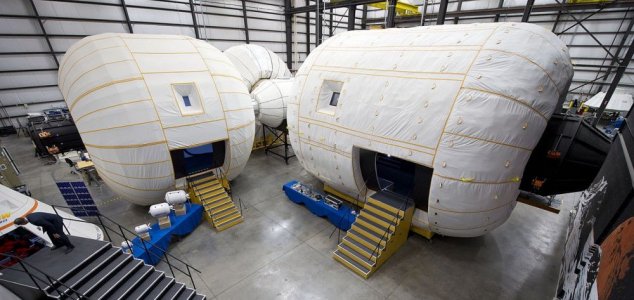 Bigelow Aerospace's mock-up inflatable modules.

Image Credit: NASA / Bill Ingalls
Russia's space agency Roscosmos is seeking $440 million to develop inflatable space habitats.
The concept was put forward as part of the agency's proposed federal space program for 2016 to 2025 which also includes plans for other projects such as a moon base and new rockets for lifting extremely heavy payloads.
The first inflatable habitat would be launched as a module for the International Space Station by 2021 and would remain operational for a period of around five years.
NASA experimented with a similar idea in 2006 and 2007 when it tested two inflatable space station modules consisting of a flexible air bladder with interwoven Kevlar and Mylar layers.
The inflatable habitats have the advantage of being cheaper and lighter than conventional modules but it isn't clear just yet how practical they will be for long term use in space.
Source: The Moscow Times | Comments (9)
Tags: Russia, Roscosmos, Space Station