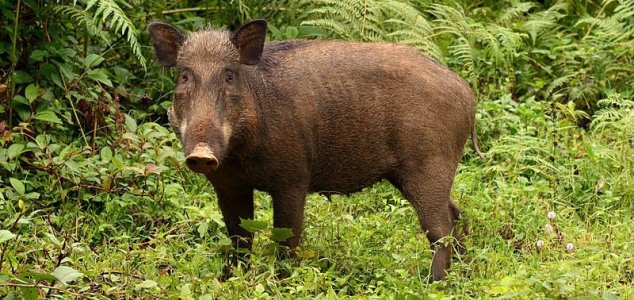 A female wild boar.

Image Credit: CC BY-SA 3.0 PJeganathan
The effects of the Chernobyl nuclear disaster are still being felt in Europe more than 28 years later.
German authorities have reported that wild boar, which still roam the country's forests and are hunted for their meat, have been exhibiting increasing levels of radioactive contamination in recent years to the point where up to a third are unfit for consumption.
Recent tests in Saxony, where it is compulsary for hunters to determine the radioactivity of the animals before they can be sold, have shown that 297 out of 752 boars caught last year had been over the acceptable limit, some by a significant margin.
The problem stems from the infamous Chernobyl disaster which in 1986 spread deadly radioactive particles across the continent. Some of this material ended up in the soil where the wild boars frequently forage for mushrooms and truffles to eat, contaminating themselves and each other.
The government has had to pay out hundreds of thousands of Euros to hunters in compensation for the large number of boars that have had to be destroyed due to being unfit for sale.
"It doesn't cover the loss from game sales, but at least it covers the cost of disposal," said Steffen Richter of the Saxon State Hunters Association.
Source: Telegraph | Comments (23)
Tags: Wild Boar, Germany, Ukraine, Chernobyl