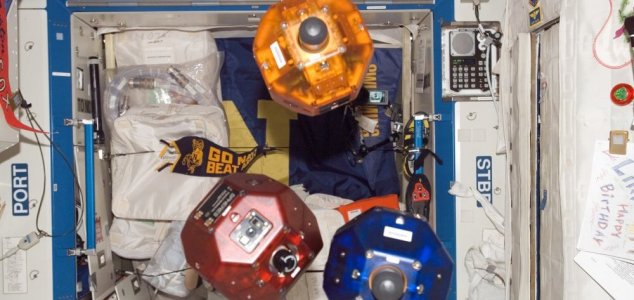 The devices could prove invaluable by analyzing space junk.

Image Credit: NASA
New self-guided robots could soon be used to help assess the threat posed by items of space debris.
Spent rocket stages, defunct satellites and thousands of other fragments of junk represent a constant threat to the crew of the International Space Station with orbital changes required on a regular basis to avoid potentially catastrophic collisions.
Now researchers at the Massachusetts Institute of Technology have come up with a remarkable new device that is capable of flying out to an item of debris to determine what danger it poses.
Fitted with sophisticated gyroscopes and cameras, the soccer-ball sized drones have so far been used in a series of tests aboard the station to manouver around and analyze an 'unknown' object.
"Inspection is not a low-risk activity," said Alvar Saenz-Otero. "An autonomous inspector could collide with the object and make problems worse. So very good sensors must be used to allow the vehicle to move safely around the object it is inspecting."
Once the robot has carried out its analysis the information would be sent back to the crew who could then make an informed decision on what action to take to avoid a collision.
There are also plans to adapt the robots to set up autonomous repair platforms that can sit in geosynchronous Earth orbit and repair old or broken satellites.
Source: New Scientist | Comments (2)
Similar stories based on this topic:
Tags: Space Junk, Robot