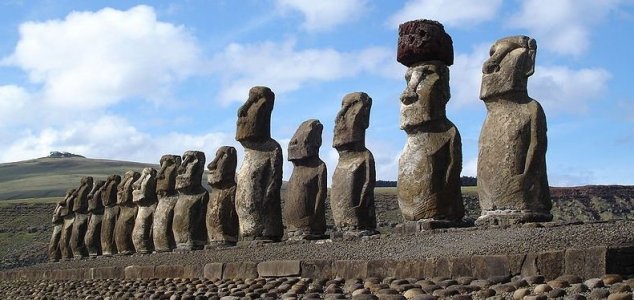 The island's inhabitants created dozens of huge statues.

Image Credit: CC BY 2.5 Honey Hooper
A new study has called in to question conventional theories about the disappearance of the islanders.
A small land mass of only 60 square miles, Easter Island has remained something of an enigma for years. Its army of strange stone heads and the unexplained disappearance of its inhabitants are mysteries that continue to draw both intrigue and puzzlement.
For a long time it was thought that the people of Easter Island had been in steady decline long before Europeans arrived there in 1722 and that their overuse of the island's natural resources had been the biggest contributing factor in their eventual demise.
Now however researchers have published a new paper providing evidence that the depletion of resources was unlikely to have been the cause of the islanders' disappearance.
The study, which was led by Christopher M. Stevenson of Virginia Commonwealth University, suggests that while the inhabitants did see a slight reduction in numbers prior to European contact it was not likely to have been indicative of mass starvation and population collapse.
Instead it appears to have been contact with the Europeans, who brought diseases such as smallpox and syphilis, that was almost entirely responsible for their eventual disappearance.
Source: Washington Post | Comments (65)
Similar stories based on this topic:
Tags: Easter Island