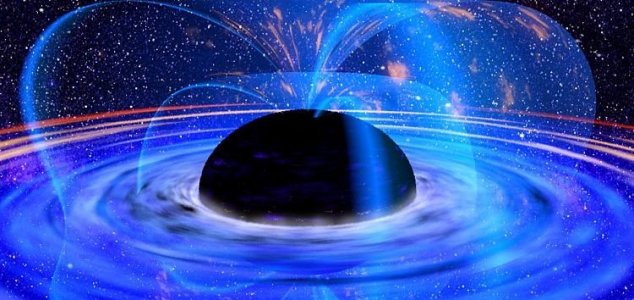 Could ET be conducting experiments with black holes ?

Image Credit: NASA/JPL-Caltech
The search for extraterrestrial life could be helped along by seeking out cosmic science experiments.
For years the SETI Institute has focused its efforts on picking up radio signals from an alien civilization, but what if there was something else that we could detect from a lot further away ?
Dr Brian Lacki, an astrophysicist at Princeton University, has put forward the idea that a sufficiently advanced alien race may be conducting large scale science experiments in deep space by using black holes to build immensely powerful particle accelerators.
Dr Lacki maintains that if such a thing exists anywhere in the universe it should be possible for us to detect some of the ultra-high-energy particles that it would be producing.
The premise assumes that an advanced alien race would be just as interested in learning more about the universe as we are and could engage in far more challenging experiments.
One downside to the idea however is that any detectable bursts would only be temporary.
"My main problem is that once the experiments are done, there would be no need to keep the thing running, so unless there are mega-machines like this popping up all over the place, there would be only transient pulses," said Paul Davies of Arizona State University.
Source: Physics World | Comments (22)
Similar stories based on this topic:
Tags: SETI, Extraterrestrial