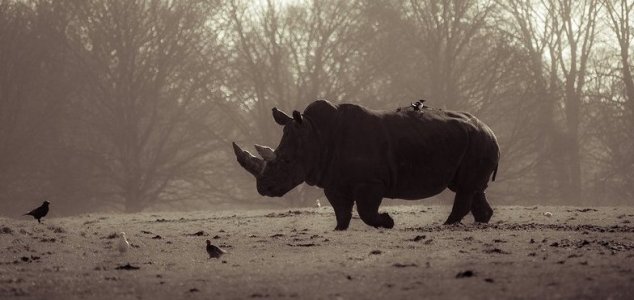 The northern white rhinos are now on the brink of extinction.

Image Credit: CC BY 2.0 William Warby
The last remaining male northern white rhino has four armed guards protecting him 24 hours a day.
The solitary male, whose name is Sudan, represents the end of an era for the northern white rhinoceros. He, along with four females, are the only surviving members of their species and with old age creeping up on him and with all previous mating attempts having failed, things are now looking pretty grim.
So great is the importance of his wellbeing that Sudan is now accompanied at all times by a squad of armed guards and his magnificent horn has been removed to deter poachers.
Two of the females remain with him in the hopes that they will mate while two others are in a zoo.
"With the rising demand for rhino horn and ivory, we face many poaching attempts and while we manage to counter a large number of these, we often risk our lives in the line of duty," said Simor Irungu, one of the rangers who protects the animals at the Ol Pejeta Conservancy in Kenya.
While there is still a chance that Sudan will be able to successfully mate with one the females it is looking increasingly likely that he will be the last male of his species.
Once he dies it will only be a matter of time before the northern white rhinos disappear forever.
Source: Telegraph | Comments (21)
Tags: Northern White Rhino