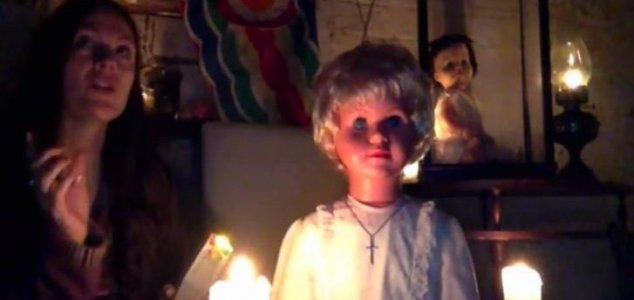 Harris has posted several videos of the doll online.

Image Credit: YouTube / Jayne Harris
Videos and photographs of the doll are said to have caused a range of symptoms in people viewing them.
Known as Peggy, the allegedly possessed child's doll is now owned by Jayne Harris, a paranormal investigator who has a keen interest in the unexplained and the occult.
Head of the "Haunted Dolls" organization in Shropshire, England, Harris received Peggy from the doll's former owner who had been trying to get rid of it on the basis that it had been responsible for a spate of terrifying nightmares and inexplicable ill-health.
After she had acquired the doll Harris started to use it as the focus of a series of YouTube videos showing her attempting to communicate with whatever spirit may be possessing it.
Soon however reports started to emerge of people suffering a range of peculiar symptoms after watching the videos including headaches, nausea and chest pains.
One woman even reportedly had a heart attack after watching one of the videos.
"If I had to guess, Iíd say close to 80 people have came forward with experiences," said Harris.
"One lady said that when she opened a photograph of Peggy, her computer froze on the picture and the room went cold. She then said she felt someone in the room with her and could hear them moving around. I took Peggy down into an isolation area and requested that she cease her tormenting. Apparently everything returned to normal."
Despite receiving offers from other mediums to have the spirit expelled from the doll, Harris has opted to keep it around and continue conducting research on it in private.
One of her video sessions with the doll uploaded to her YouTube channel can be viewed below.
Source: Inquisitr.com | Comments (39)
Tags: Haunted, Doll